GunDogUSA has relocated to Ohio!

In 2014, I moved from South Texas back to Ohio. It was a difficult decision to leave the area where I had spent the last 30 years of my life, but it has been worth it. So with dogs in tow, we made the 1,500+ mile trip from South Texas to Ohio. We took a break from hunting and breeding for a couple years while we packed up and settled in our new home. The dogs have adjusted well to the Ohio winters and I think they are like us and don't miss the South Texas heat that much.

I started out hoping, wishing and praying for a bird dog when I was a young boy hunting in the Appalachian Mountains of southwest Virginia. I loved eating ruffed grouse, but boy they would scare the heck out of you when they flushed unexpectedly. I remember thinking that if I had a bird dog, I could at least have some warning before the grouse flushed and hopefully be able to put a few more in the frying pan.

Doing my research, long before google, by reading Outdoor Life, Field and Stream, and Sports Afield, I decided that the Brittany would be the perfect dog for me. We didn't have a lot of space at home and the Brittany was a more compact dog that could do everything in a relatively small package. I spent a lot of time dreaming about that dog and the hunts that we would have as a kid.

Well, we never got the Brittany when I was growing up...just too many things got in the way at that time. When I moved to South Texas I was doing a lot of duck hunting, so I got a black Laborador Retreiver from a classified ad in the newspaper for a cheap price. She was registered, but that was about it. I spent a lot of time working with her, but she had a mind of her own and wanted to do what she wanted no matter what i was asking her to do. Needless to say, she didn't work out.

I didn't get my first Brittany until 1986, a female pup from an outdoor writer and part time guide in South Texas. I remember talking to him and he said the spot on top of her head was from a dog named Perry's Rustic Prince. At that time, the name didn't mean anything to me and I am lucky that I even remembered it. She was the smartest dog that I had ever been around. Her first covey of quail that she pointed was without any birdwork on my part, was in the middle of a residential subdivision, and I just knew that she was pointing some ground birds. There was no way that there were quail here. Boy, did I feel bad when I was trying to get her to quit pointing and the quail flushed! I realized then that she knew more than I did. Her name was Gypsy and she was an excellent dog.

Gypsy past away in 1996. I didn't even take my gun out of the safe that year. I just couldn't hunt without her.

In 1997, I decided I might look for a pup again. I remembered the Perry's Rustic Prince name and googled it. It just so happened that Rick Smith (son of Delmar Smith who compaigned Perry's Rustic Prince) had a litter of pups and he was only about 4 hours north of me. I got 1 pup from him and put a deposit down on an orange and white male pup from an upcoming breeding that was as close to Perry's Rustic Prince as you could get. After several failed breeding attempts, I got a call from Rick saying that his dog had 4 pups, all female, and all liver and white! No where near what I had a deposit in for, but it had been almost 2 years so I said I would take one, plus Rick was keeping one, the stud dog owner was keeping one and Rick's cousin (who also trained bird dogs) was taking one. Obviously these guys thought these pups were going to be good..... and man were they right!

I named my dog Kate and she was one of the smartest dogs that I have ever been blessed with. She was my foundation for my breeding program to this day.

Here is a picture of Kate.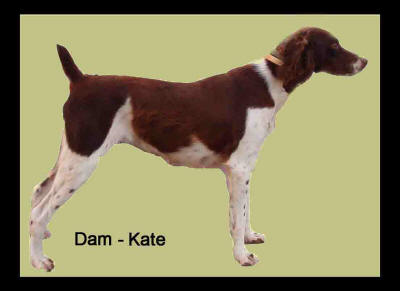 I was very fortunate to breed Kate several times to the winningest Brittany in field trial history, NFC FC AFC Shambo's Dark Shadow. That breeding produced some tremendous pups and I retained a few as personal dogs and for breeding.
So you can see that I have been raising, breeding and training Brittanys for over 30 years. Our Brittanys are bred for their intense desire to please their owner, hunt, retrieve, and have a wonderful personality. We only breed dogs that are proven hunters and that have a championship background. We breed 1 to 3 litters per year and we occasionally have puppies and started dogs available for purchase. Please check the
puppy page
for availability.
We hope you enjoy the site.
Feel free to contact us by phone or email with any questions that you may have.. We will respond as quickly as possible.
Be sure to check out the Dog Humor page. I think you will enjoy some of the funnies!
Phone (956) 793-4311
email:
oquinn@GunDogUSA.com